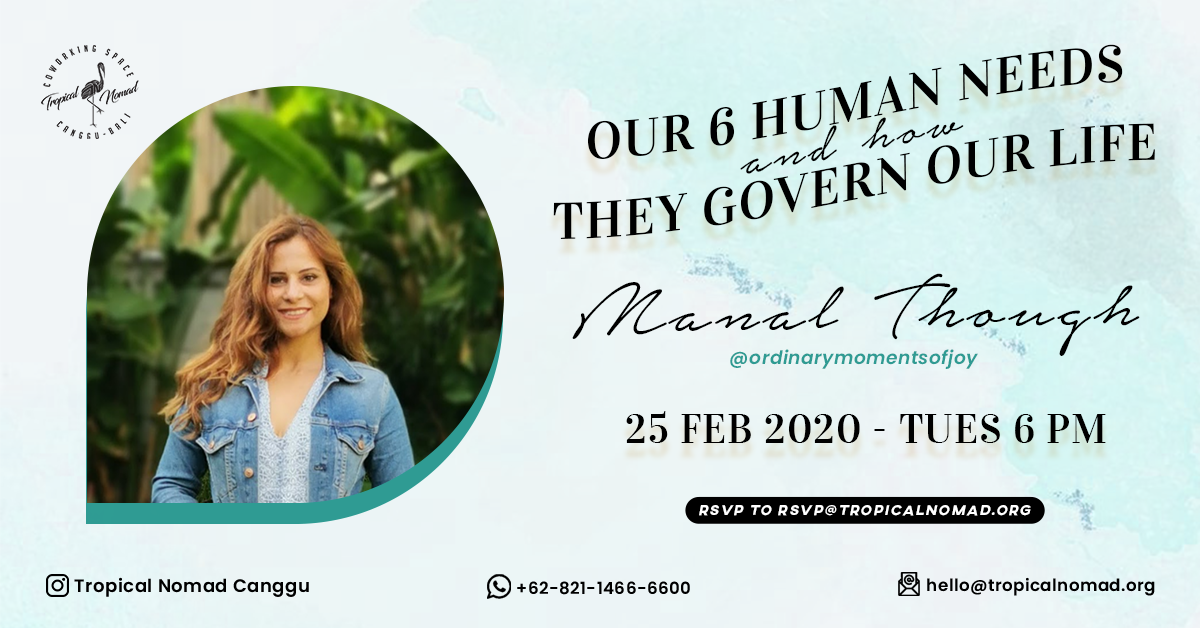 Our 6 Human Needs and How They Govern Our Life
Six Human Needs is a framework founded by Tony Robbins, which originates with the understanding of the power of meaning to shape all aspects of a human being's life. The 6 Human Needs are the driving force and motivation behind everything we do. Only through understanding our 6 human needs we can change, evolve and live more fulfilling life.
TOP 3 THINGS AUDIENCE WILL WALK AWAY WITH
1.The 6 human needs and their influence in our life
2.The meaning behind the sequencing of their needs
3.The vehicles through which they meet their needs
-----
I am a certified Strategic Intervention life coach, graduated from Robbins-Madanes Training which I consider the best investment of my life. After spending over a decade in a corporate job which eventually led to anxiety disorder. I decided to let go of attachments to my consumerist lifestyle and embark on a journey of connection, redefinition and holding space. The journey led me to Bali, where, in a nutshell, I became a coach, writer, public speaker and wife.
I now help people stuck in a life of purposeless hustle between career and relationships, to take more actions, sidestepping interpersonal restrictions, and finally resolving internal conflicts to uncover their intuition, purpose, energy and creativity, and finally enjoy the ordinary moments of their incredible life.